Here is a look at the US trade deficit since 1998: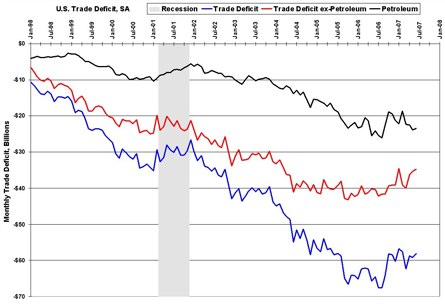 Graphic by Calculated Risk
It appears that the monthly trade deficit bottomed in July 2006 and has been improving since then. This is evidence that the US economy has been slowing relative to the rest of the world and the falling US dollar has made US exports more attractive.
If the US economy continues to deteriorate, as I expect it will, then the Fed will significantly reduce interest rates, causing the dollar to fall further and the trade deficit to continue to improve. This would be bad, of course, for America's largest trading partners such as China, Japan, Canada, Mexico, and Germany. But it may help to keep the US from a protracted and severe recession.
The one wild card in all of this is energy prices. If the prices of oil and natural gas surge higher then the overall trade deficit could actually increase even in the face of a decrease in imports of manufactured goods and a rise in exports.