My bullish view on single family housing starts (as detailed in a recent post), coupled with the recent sell off in homebuilders caused me to buy the iShares US Home Construction ETF (NYSE:ITB). I tweeted about it late Wednesday night and will track it in my portfolio page using that day's closing price of $22.17 as my initial price.
During the flush I got 90% in invested. Hope mkt drops sub 1800 to get fully invested. Bought $C & $ITB during the day

— Risks & Returns (@RisksandReturns) October 16, 2014
Although housing starts stagnated over the past year due to the rapid rise in home prices and interest rates, there are reasons for optimism. According to the Case-Shiller index, year-over-year home price growth has softened from just over 10% late last year to 5.6% in July. In addition, the most prevalently quoted conforming 30 year fixed rates dropped below 4% last week for the first time since June 2013.
As for the state of home buyers, employment continues to grow 200,000+ per month with moderate wage growth, while household debt to disposable income continues to decline.
A potentially positive recent development was the report of a likely deal between Fannie Mae, Freddie Mac and mortgage lenders to loosen lending. This could make mortgages more obtainable for lower income families.
Over the past year, homebuilders' stocks have flatlined along with housing starts, while significantly underperforming the market.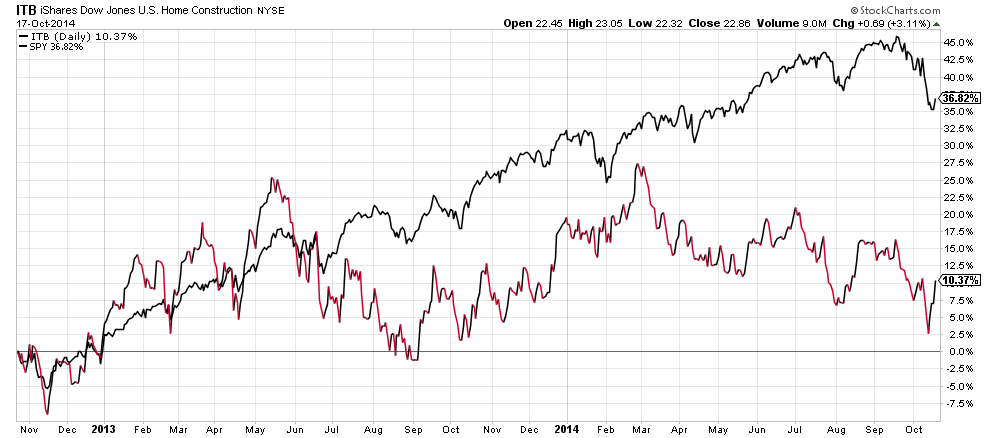 Despite little growth in new home sales, homebuilders have been able to grow their top and bottom lines by raising prices. So if sales begin to increase again, they could easily grow EPS by 20%+ and achieve 2015 analyst estimates.
As shown in the following chart, the largest homebuilders currently trade for 12x next year's earnings compared to S&P 500's 14x its lofty estimates.

Looking beyond, past housing recoveries suggest housing starts could increase 15-20% for several years allowing homebuilders' operating leverage to grow earnings even faster making their stocks attractive long term investments.