My long-term bullish outlook on US stocks is predicated on a US economy that continues to strengthen in the face of a global slowdown. This has happened before. FT Alphaville compares the current period to 1997/1998:
Recall what things were like in those heady bygone days:

Oil prices had plunged by nearly 60 per cent from the start of 1997 through the end of 1998
Spreads on high-yield bonds had widened by about 4 percentage points in 1998, while spreads on the junkiest junk debt had widened around 6 percentage points
Currency crises and deep downturns were afflicting poorer countries from Latin America to Russia to Asia
The US dollar had rocketed up more than 20 per cent from the start of 1997 through the end of August, 1998
Core inflation had slowed from an annual rate of 2.0 per cent in June, 1997 to just 1.0 per cent by June, 1998 — the slowest rate ever recorded until 2010
America's unemployment rate had dropped by a percentage point to levels not experienced since March, 1970

Now compare to what we have now:

Oil prices are down about 65 per cent since mid-2014
Spreads on high-yield bonds are up around 3 percentage points since the start of 2014, while the spreads on debts rated CCC or lower have widened by nearly 9 percentage points
Many large emerging markets, including Brazil, Russia, Turkey, and China, are either shrinking or slowing down sharply
The dollar is up nearly 20 per cent since the summer of 2014
Core inflation slowed from an annual rate of 1.7 per cent in July, 2014, to 1.3 per cent ever since the start of 2015
America's unemployment rate has dropped by a whopping 1.6 percentage points since the start of 2014
As it pertains to stocks, there are a couple of important differences: currently, US economic growth is slower and interest rates are much lower. In my view, both variables cancel each other out in their effects on equity valuations. In 1998 US stocks shook off a 20% correction to go on a parabolic (and unsustainable) run based on earnings growth and multiple expansion. I believe history will repeat itself, although stocks may experience more modest gains and the current bull market will last longer.
With regards to numerous recent predictions about a US recession, it seems that they have mostly been based on the recent weakness in manufacturing activity. But it is important to keep in mind that the US economy is primarily driven by services, while manufacturing's share is less than 10%.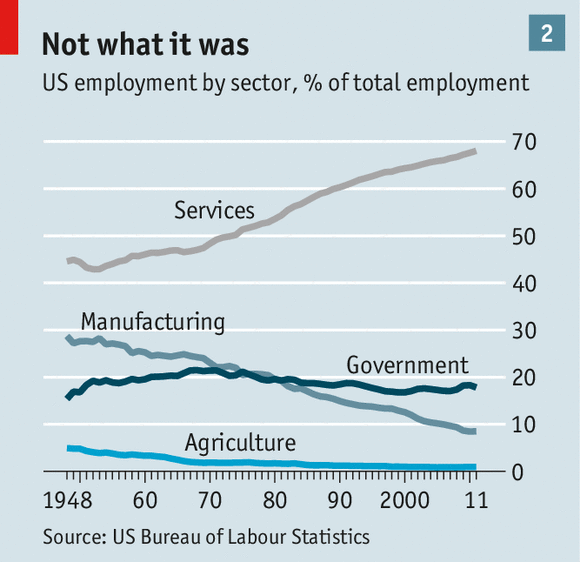 Source: The Economist
And as reported by the ISM, manufacturing is contracting while services is expanding healthily. If the 1998 playbook is followed, then the manufacturing sector will soon return to growth.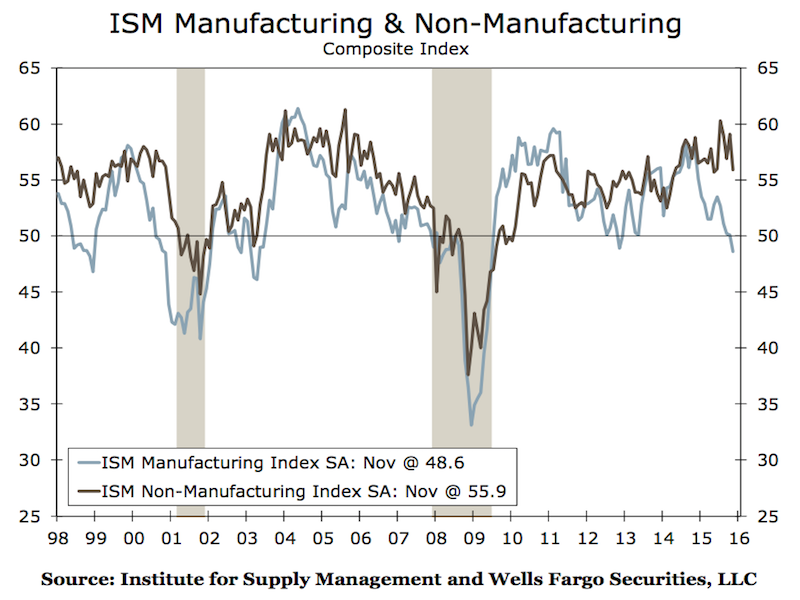 Therefore, if US economic growth continues to chug along and it turns out that investors' fear about a recession were misplaced, then as in 1998, the maximum possible drawdown that one should expect is limited to around 20% and the bull market will shortly resume.